Waste management is a huge problem. We produce more than 2.24 billion tonnes of solid waste, according to the World Bank estimates. And only 13.5% of them are recycled. We basically waste tons of raw materials which could be recovered to build a more sustainable development model. Why? There are many barriers, but the first step for recycling is sorting. Technologies used in current waste treatment plants cannot separate different types of materials with a good grade of purity and recovery. Human labor is still used to compensate, but it is almost impossible to handle such a huge quantity of waste. Thus, our group is working on a Robotic Waste Sorting System (RWSS) able to exploit the potentiality of industrial robots in waste sorting plants.
The Concept
The system will be composed of a Vision System and a Manipulation System. The Vision System exploits state-of-the-art Deep Learning approaches to recognize different types of objects and materials in a cluttered stream through RGB-D and multispectral cameras. Since traditional hyper-spectral imaging used for material recognition outputs very redundant data, our aim is to develop algorithms able to use less rich data, without affecting performance and flexibility. Consequently, we target to lower hardware costs. We are also investing in data augmentation and synthetic data generation techniques in order to generate large amounts of training data with low efforts.
The Manipulation System will be charged to guide the robot during complex manipulation operations like grasp in a clutter, rummaging, tossing and so on in order to mimic human movement. In this direction, Reinforcement Learning and Self-Supervised Learning have shown promising results in laboratory settings. We are going to extend these approaches to work in real-world settings, e.g. considering objects with irregular geometries, entangled objects and so on, considering also Learning by Demonstration techniques.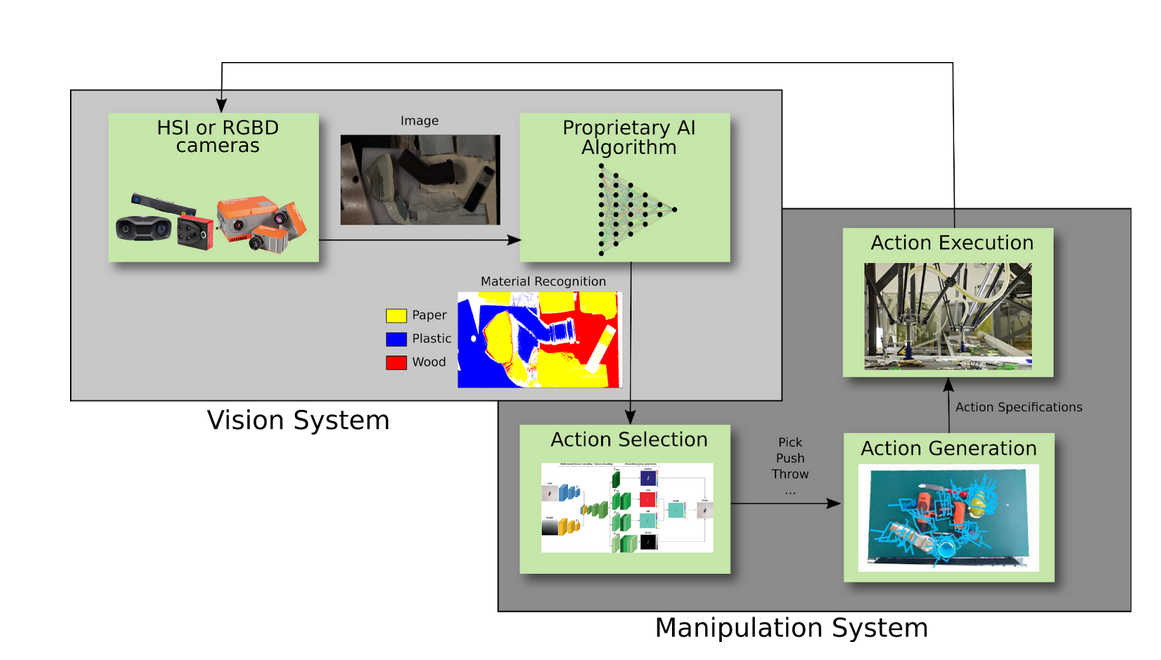 RWSS aims to increase the quality and quantity of recovered material, boosting the efficiency and economic sustainability of the recycling process. With this project, we want to make an impact at social and economic levels in order to push our development model toward a more circular and sustainable scheme.
Awards and Prizes
Our project won a prize of 10.000 euros at SMACT call4ideas 2022 for the "Zero-waste & green transition". We also participated in the "Start Cup Veneto 2022", a regional business plan competition, obtaining 4th absolute prize (over more than 40 proposals) and a special mention which gave us the opportunity to compete in the "National Innovation Prize 2022".
Contacts
If you are interested in collaborating within the project or inquiring for more information, please contact Dr. Bacchin Alberto at This email address is being protected from spambots. You need JavaScript enabled to view it.