Fig. 1 - UNIPD-Mask
COVID-19 pandemic spread rapidly in Italy in early 2020, with over 200000 positive cases and more than 30000 deaths (Protezione Civile Update). Hospitals faced a shortage of Continuous Positive Airway Pressure (C- PAP) mechanical ventilation masks. This non-invasive treatment offers essential support in the treatment of patients with respiratory difficulties, such as COVID-19 ones, and can potentially avoid their admission to intensive care. Through an airtight connection with patients' airways, C-PAP devices create a constant positive pressure airflow while improving the patients breathing capacity. As a result, it is absolutely necessary to supply C-PAP devices, and this need led to the development of alternative solutions.
The Department of Information Engineering and the Department of Medicine of the University of Padova (Italy) developed UNIPD-Mask (see Fig. 1 and 2): a set of valves that allows converting EasyBreath, the snorkeling mask developed and marketed by Decathlon, into a C-PAP mask (patent pendant n. IT 1020200008305). This repository collects 3D models of the developed parts: https://github.com/iaslab-unipd/UNIPD-Mask.git. They are freely accessible and replicable.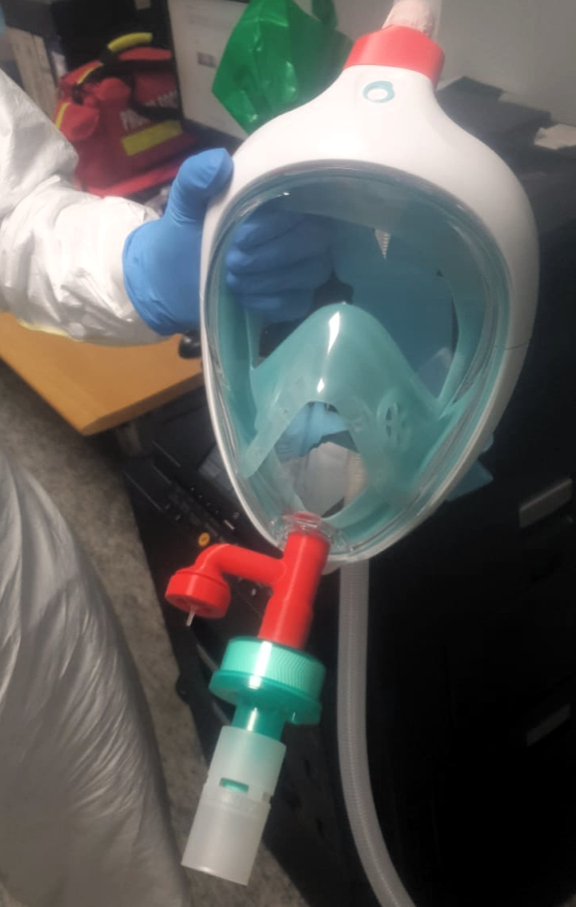 Fig. 2 - UNIPD-Mask real picture
The proposed invention follows the idea of Isinnova SRL (Brescia, Italy) in the development of Charlotte and solves Charlotte problems related to the limited section of its air inlet and outlet ducts: during inhalation, systems equipped with Charlotte valve are not able to compensate the volume of air inhaled by the patient, resulting in a pressure drop. Moreover, during exhalation, this configuration does not allow for rapid air evacuation, causing a feeling of fatigue in the patient. UNIPD-Mask, using a double-channel for the incoming airflow, is instead able to provide a greater volume of air to the patient, without a drop in pressure inside the mask during inhalation (see Fig. 3).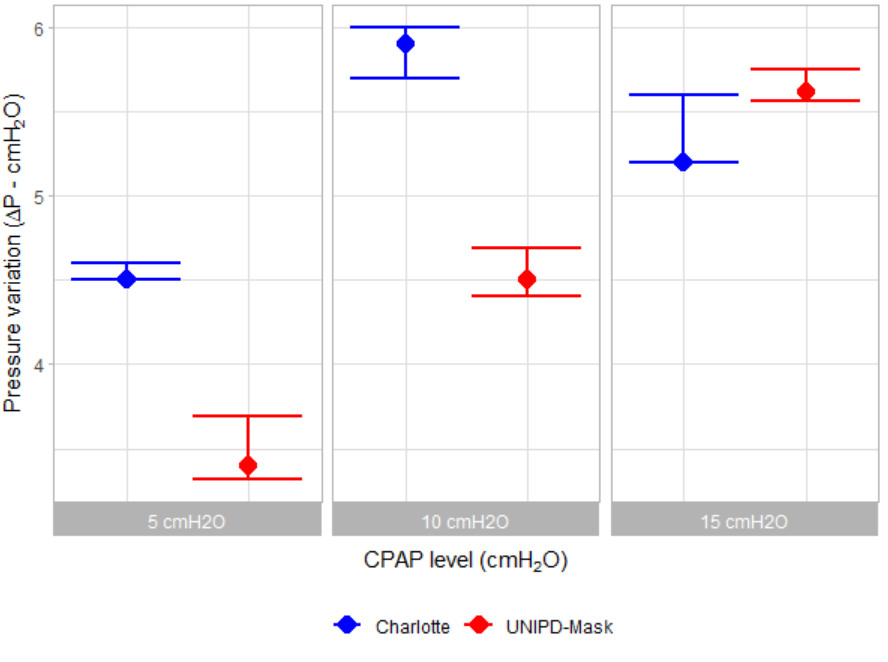 Fig. 3 - Comparison between Charlotte (blue) and UNIPD-Mask (red) in terms of pressure variation
Finally, UNIPD-Mask adds an anti-suffocation valve which, in the event of an accidental interruption of air and oxygen flow, allows the patient to continue breathing. It is also possible to connect an outgoing air filter.